TRX is a workout system like no other. With the TRX Suspension Training System, you use your own body weight as resistance—which means you can work out any time and anywhere, with no limitations. Whether you're at home, in the gym, or even at the beach or the dog park, TRX lets you strap into the simplest, yet most advanced resistance training system in the world. And at the TRX 4th of July Sale, you can take 25 percent off everything at TRX, including the company's signature Home2 Personal Suspension Training System.
But it gets better. TRX Training always offers discounts when you buy one of its special bundles. These include not just the personal suspension trainers, but other health and fitness products that complement your workout. Depending on which bundle you buy, you can get resistance bands, smash balls, shaker bottles, and more. It's everything you need for a core, cardio, strength, or mobility workout.
Purchased separately, all the gear in TRX's most popular bundle, the Infinity Gym, would cost you $700. But the bundle is already discounted. Add the 4th of July Sale savings of 25 percent, and the price of the Infinity Gym plummets a mind-boggling 46 percent! So for just $375, you can get $700 of fitness equipment, all wrapped up in a cool duffle bag.
Simply put: You can't afford to miss out on this deal. We won't see prices like this again until the holidays.
TRX Infinity Gym
With the Infinity Gym ($375; was $700), seven different training tools give you myriad options for blasting through a workout. It combines the best-selling TRX Pro4 System with the core-strengthening Rip Trainer, a 10-pound Slam Ball, two variable resistance strength bands, a set of four exercise bands, a Buddy Lee jump rope, and even a TRX water bottle.
You also get a one-year subscription to the TRX app, with hundreds of different workouts and coaches to help you see the results you're after. Choose from workouts specific to your goals and lifestyle. You can even schedule your workouts and track your progress. Of course, it syncs to your fitness tracking device. And while you're at it, toss in the TRX Protection Plan, a five-year warranty on the Pro4 and Rip Trainer.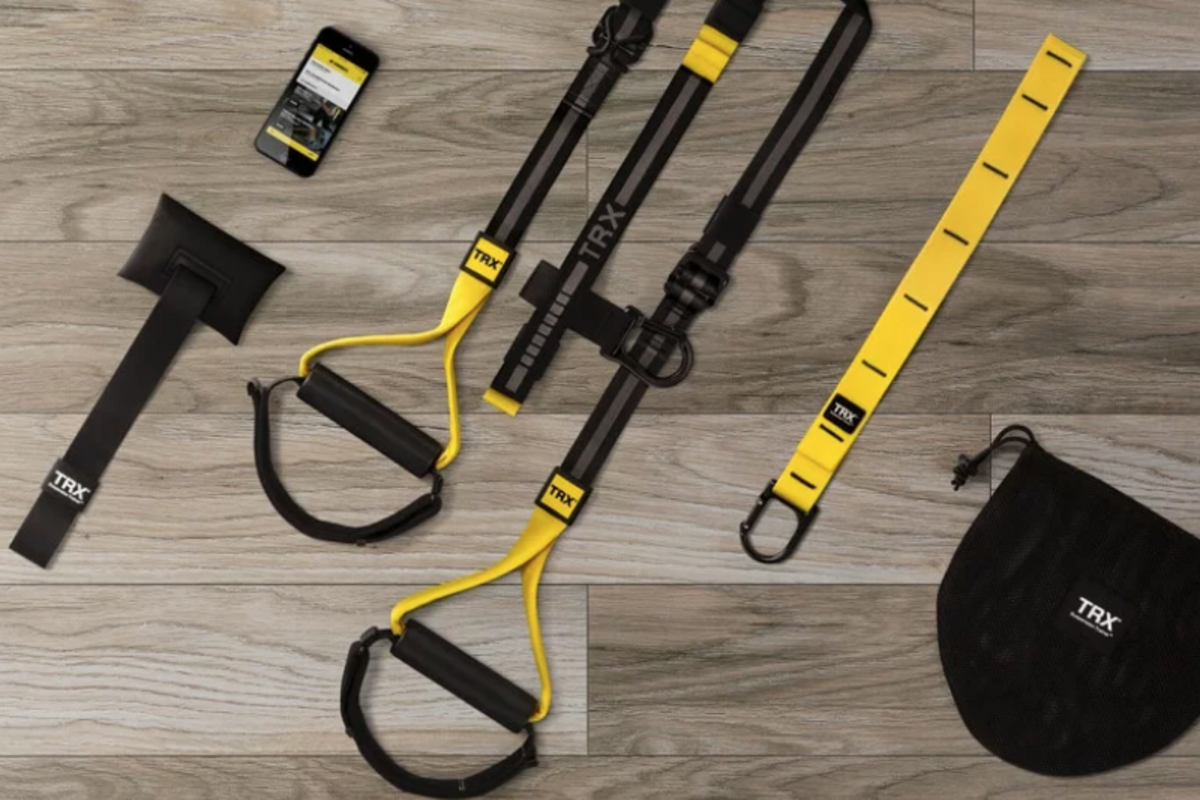 TRX Home2 Suspension Trainer
If you're not interested in all those extra features, there's nothing wrong with starting small. The TRX Home2 ($150; was $200) is an excellent introduction to TRX. Whether you're just starting your fitness journey or trying to take your workouts to the next level, the Home2 is the system you need to crush your fitness goals. And you can do it in as little as 15 minutes a day.
With reinforced webbing, soft handles for comfort, adjustable foot cradles, and a free one-year subscription to the TRX app, the Home2 enables you to personalize your training to burn, blast fat, and build muscle at home, work, while traveling, or outdoors.
Stabilizing your body weight with TRX Suspension Training constantly challenges your core while engaging a broad range of muscle groups all at once, including your heart. There are no weights or machines, yet you perform hundreds of exercises that build, burn, tone, and strengthen. And you can do it anywhere you can attach the TRX suspension trainer, either to a door, a ceiling beam—even a tree branch. Anywhere the TRX can hook on, you can work out. Planet Earth is now your gym; the only limit is your imagination.
Don't Get Fooled—Buy Direct
You might be able to find TRX gear elsewhere online—but then you're only getting half of the TRX system. When you purchase direct from TRX, you get loads of exclusive benefits. In addition to the amazing TRX app, you also get 24/7 access to a personal TRX Concierge— a real, live human who can answer questions about products, workouts, set up, or use.
So jump on the TRX Suspension Training train today. You've got nothing to lose—except that gut.
Get It: See all the great deals at the TRX 4th of July Sale
Check out all the products and gear we've selected for Men's Journal readers
SEE ALSO:

The Only TRX Workout You'll Ever Need

The 10 Best TRX Exercises for Men

5 Hardcore Abdominal Movements Using TRX